Mambo Grilled Shrimp Skewers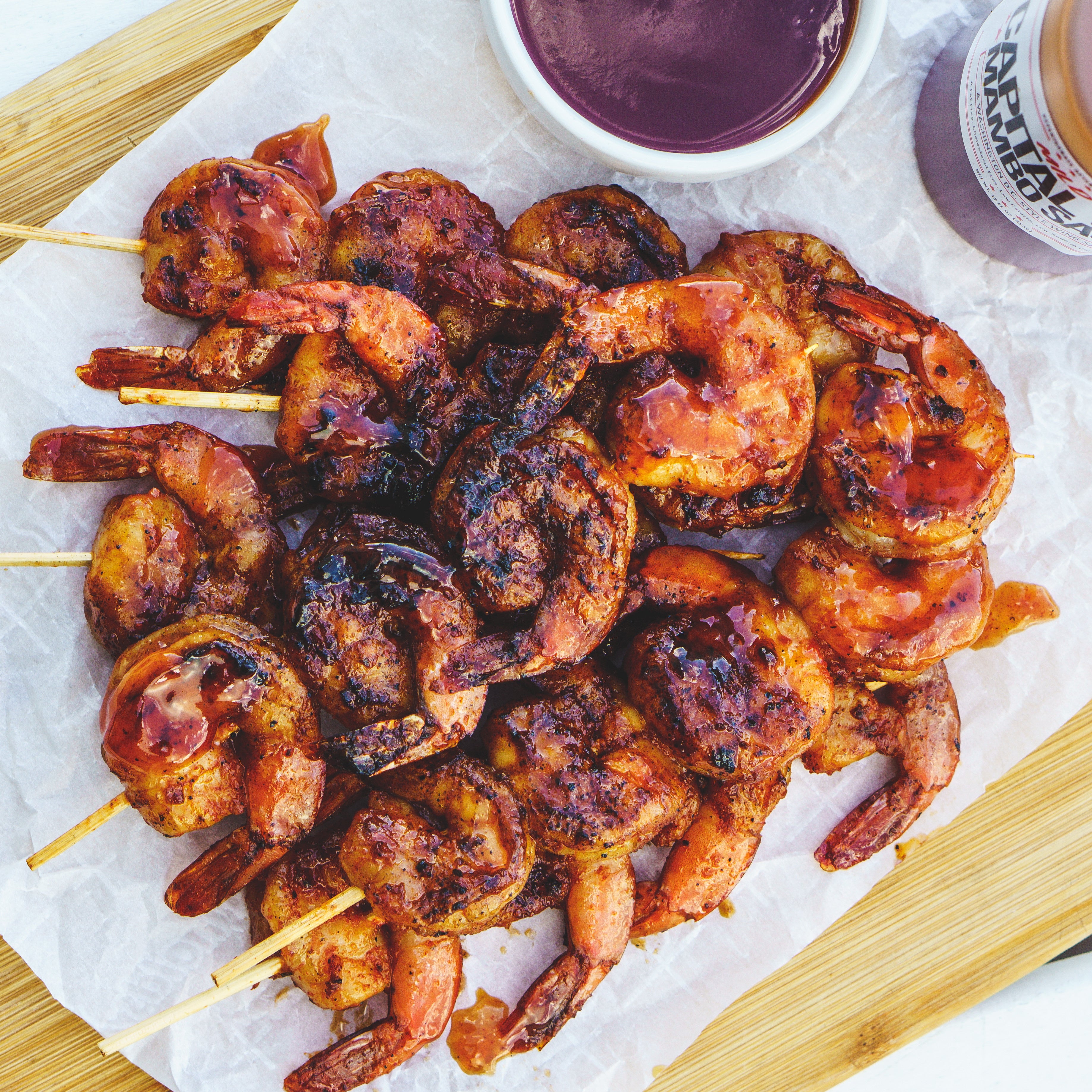 NOTES
Servings: 8 as appetizer; 4 as entrée
Active Time: 30 min
Total Time: 1 hour, 30 min
INGREDIENTS
2 lbs raw jumbo shrimp (at least 16/20), peeled and deveined
2 tsp Kosher salt
1 tsp smoked paprika
1/2 tsp black pepper
1/2 tsp garlic powder
Zest and juice of 1 lemon
1/2 tsp baking soda
Canola oil, as needed
1/3 cup mambo sauce, plus additional for serving.
INSTRUCTIONS
In a separate bowl, toss peeled shrimp with salt, spices, lemon zest and baking soda. Refrigerate for one hour. Meanwhile, soak wooden skewers in water to prevent scorching.
Preheat grill for high heat, or a cast iron grill pan until just shy of smoking. Toss marinated shrimp with a couple tablespoons of canola oil to coat. Skewer shrimp, pushing the wood through from head to tail so that the shrimp is secure.
Brush grill grates with oil. Place as many skewers down that will fit in one layer across the grates.
Baste the tops of the shrimp with a light coating of mambo sauce while the other side grills. After one minute, flip the shrimp and baste the grilled side.
Continue flipping and basting until shrimp is opaque, cooked through and charred in spots, about 3 to 4 minutes total depending on the size of the shrimp. Be careful not to overcook the shrimp. Squeeze lemon juice over the cooked shrimp before taking them off the grill.
Repeat with remaining batches, transferring cooked shrimp to serving platter. Discard any unused basting sauce. Serve grilled shrimp with additional mambo sauce on the side, if desired.